My Detroit Red Wings fan site
|
home

Kirk Maltby #18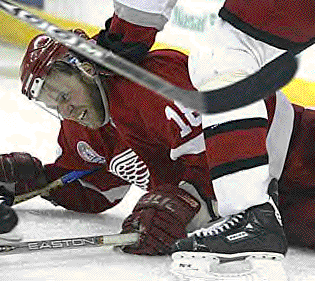 LEFT WING
SHOOTS »

Right





HEIGHT »

6'0"

WEIGHT »

200 lbs.

BIRTHDATE »

December 22, 1972

BIRTHPLACE »

Guelph, Ontario

RESIDES »

Novi, Michigan

DRAFTED »

65th Overall, 3rd Round, 1992 (EDM)

COMPENSATION »

$1,058,750.00 US

CONTRACT ENDS »

2003

ACQUIRED »

Traded from the Edmonton Oilers for D Dan McGillis, 3/20/96.
2000-2001 STATISTICS
REGULAR SEASON »

STANLEY CUP PLAYOFFS »

GP

G

A

PTS

+/-

PIM

SH

SH%

GP

G

A

PTS

+/-

PIM

SH

SH%

79

12

7

19

16

22

119

10.08

6

0

0

0

-3

6

12

0.00
PERSONAL INFORMATION
Kirk Maltby was drafted 65th overall in the 1992 Entry Draft by the Edmonton Oilers. On October 8, 1993, he made his NHL debut and scored a goal against the Islanders. Kirk played 68 games that rookie season and tallied 19 points. In the shortened 1994-95 season, Kirk scored 11 points in 47 games and won the team's Most Popular Player award. In 1995-96, Kirk was traded on March 20 to the Detroit Red Wings for Daniel McGillis. In 54 games between the two teams, he scored nine points. In 1996-97, Kirk played 66 games for the Red Wings. In the playoffs, he played 20 games as the Red Wings won both the Clarence Campbell Bowl and the Stanley Cup. It was the Red Wings' first Stanley Cup in 42 years. In 1997-98, Kirk scored 14 goals and 23 points in 65 games. In the playoffs, he helped the team again win the Clarence Campbell Bowl and the Stanley Cup.
In 1998-99, Kirk scored 14 points and 129 hits in 53 games. In 1999-2000, he scored 14 points and 90 hits in 41 games. In 2000-01, Kirk led the Red Wings with three short-handed goals as the team won the Central Division title. At the 2000 Red Wings' Super Skills competition, Kirk won the fastest skater event in 14.155 seconds (one lap). On November 24, 2000, Kirk recorded one assist and nine hits and was the third star of the game in Scotty Bowman's 2000th game behind the bench (a 3-2 victory against the Canucks).
Kirk played junior-B hockey with the Cambridge Hawks. In 1989-90, he joined the OHL's Owen Sound Platers and scored 27 points as a major junior rookie. He was named the team's rookie of the year at season's end. In 1990-91, Kirk scored 34 goals and 66 points and was named his team's MVP. In 1991-92, he improved to 50 goals and 91 points, was named his team MVP and represented the QMJHL/OHL Selects in the mid-season CHL All-Star Game. In 1992-93, Kirk turned pro with the AHL's Cape Breton Oilers and scored 45 points as a rookie. In the playoffs, he helped the Oilers win the Calder Cup championship.
In 1995-96, Kirk played four games (three points) for the AHL Oilers.